REALIZZAZIONE SITI WEB, WEB DESIGN, SERVIZI SEO E INBOUND MARKETING PER INCREMENTARE VISIBILTA' E POSIZIONAMENTO DEL SITO INTERNET NEI MOTORI DI RIERCA.

Sono co-ideatore e co-founder del progetto editoriale TuttoSulleGalline.it, un portale unico nel suo genere nel panorama italiano e dedicato esclusivamente e a 360° al mondo delle galline (come animali da compagnia) e delle uova. Notizie curiose e di cronaca, informazioni su come accudire le galline e realizzare un pollaio domestico, approfondimenti sulle razze. E poi video, libri, gadget e ricette con le uova.


Mi chiamo Francesco Giubbilini (aKa "Delizard") e dal punto di vista lavorativo mi occupo, come libero professionista, della realizzazione di siti internet e del loro posizionamento sui motori di ricerca, dal sito web di presentazione personale (per il libero professionista), a quello aziendale fino all'e-commerce; sul sito puoi isionare il  portfolio completo dei siti web da me realizzati!
Non ho un tariffario "alla mano" perchè reputo ogni lavoro come un caso specifico, che deve essere costruito a misura del cliente, e solamente dopo uno o più incontri, assolutamente gratuiti e senza impegno, nei quali si è cercato di progettare al meglio il lavoro per lo scopo che si vuole raggiungere, solo a quel punto, allora, si potrà fornire un preventivo sicuro con poco margine di errore.
Nel mio lavoro cerco di essere preciso e puntuale e di personalizzare al massimo ogni nuovo progetto; credo in un continuo processo di aggiornamento delle proprie conoscenze soprattutto attraverso manuali, eventi e risorse on-line. A questo proposito ringrazio di cuore gli amministratori e i moderatori di tutte le community che, in questi anni, mi hanno aiutato a risolvere e capire i problemi che inevitabilmente si sono via via presentati!
Negli ultimi anni mi sono dedicato molto ad approfondire le mie conoscenze SEO (soprattutto per quello che riguarda l' ottimizzazione interna di un sito e delle singole pagine web che lo compongono) e SEM; grazie a questo studio continuo adesso posso offrire al cliente interessato anche servizi SEO professionali. Dai primi mesi del 2012 seguo con molto interesse anche le possibilità offerte dall'Inbound Marketing e più in generale guardo di buon occhio (curioso) tutto ciò che si basa sulla creazione di contenuti straordinari, storytelling del brand e web autoriale.
Nella maggior parte dei casi svolgo la mia attività su Rosignano Solvay e più in generale sul territorio del Comune di Rosignano Marittimo e delle provincie di Livorno, Pisa, Lucca, Firenze e comunque la Toscana tutta; ma anche il lavoro a distanza è per me un'ottima possibilità, ed infatti collaboro costantemente con realtà di Firenze, Milano e Barcellona. Sono aperto e disponibile a valutare collaborazioni e proposte di progetti sia con sviluppatori e grafici sia con artisti, fotografi, filosofi ecc.; mi piacerebbe inoltre ampliare scambi di conoscenze con altri colleghi del web!
Sono dunque un web designer/developer freelance, a cui piace sviluppare soprattutto siti internet dinamici, con l'ausilio del linguaggio di programmazione PHP e del supporto del database MySQL. Per realizzazioni ancora più complesse, quali Blog, CMS, portali o e-commerce, mi avvalgo di prodotti open-source quali Nucleus, Joomla e PrestaShop. Mi piace molto scrivere articoli sul mio blog (sia dedicati al SEO, sia anche a a miei hobby personali e al mio territorio) e aggiornare in modo abbastanza costante il mio feed SEO con articoli, pillole, suggerimenti e news dedicate al mondo SEO e a quello dello sviluppo di siti internet.
Puoi seguirmi tramite feed direttamente, oppure su Twitter, Pagina Facebook e Google+. Posso offrire anche servizi aggiuntivi complementari a quello della realizzazione del  sito, come grafica e creazione loghi, creazione ebook e servizi video e fotografici. In questo modo è possibile ricevere una cura a 360° su tutti gli aspetti della vostra promozione, sia online che offline. Ulteriori servizi: registrazione domini, restyling siti web esistenti, realizzazione banner e newsletter.

VUOI REALIZZARE UN BUON SITO WEB O MIGLIORARNE IL POSIZIONAMENTO? 
Un documento fondamentale, in cui riassumo le cose più importanti che devi sapere se vuoi realizzare un sito o migliorare l'indicizzazione di quello esistente! Scarica ora! E' gratuito e può portarti solo beneficio.
------------------------------------------------------------------------------------------------- §
BREVE BIOGRAFIA FILOSOFIZZATA :)
...chi sono? in continuo divenire, sicuramente senza certezze tranne la morte, ma non come una fine.. un passaggio, una mutazione piuttosto: tutto si trasforma! Credo che i corpi siano solo un limite superficiale convenzionale, volendo ammissibile ma non assoluto; credo che il mio essere sia un pò ovunque, concentrato dove più dove meno, e che tutte le cose del mondo siano un pò nel mio essere; ho una mente attiva e girovaga e un corpo ancora abbastanza giovane per sognare di poter fare ancora tutto; mi piacciono i limiti perchè sussurrano all'Oltre e a volte amo addentrarmi tra radici e memorie. Leggo soprattutto saggi Mangio quasi tutto tranne i funghi Gioco a calcetto Cambio rarissimamente modo di vestire Accolgo curioso ogni nuovo incontro Cammino sempre volentieri La Natura mi sublima Bevo con delizia ottimi vini Non ho mai preso un Aulin Amo alcune persone Voglio bene a molte altre Voglio male a razzisti, sfruttatori e prepotenti SPORT Calcetto, corsa, ping-pong e palestra. HOBBIES web design, seo, internet, cinema, pesca, trekking e ...pes2008! :) FILM Amores Perros, Blade Runner, Tetsuo, Il grande Lebowski, Betty blue, Gatto nero Gatto bianco, C'era una volta il west, Sole rosso, Totò. BOOK L'occhio, Psicomagia, Guerra agli umani, Branchie, ..e quasi tutti i libri che ho letto per la mia laurea in Filosofia! MUSIC Fugazi, Bauhaus, Teatro degli Orrori, Korn, Kyuss, Massimo Volume, MArlene Kuntz, Disciplinatha, Tom Waits, Mr Bungle, Joy Division, Fields of the Nephilim, Fun Lovin Criminal, Massive Attack, Tricky, Xiu Xiu, NIN, Chemical Brother, Prodigy. Mi piacerebbe conoscere molto meglio il jazz e la classica!
§ ------------------------------------------------------------------------------------------------- §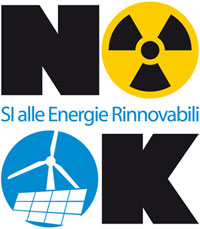 IO LA BOLLETTA NUCLEARE NON LA VOGLIO!!!
§ ------------------------------------------------------------------------------------------------- §
2.0.1.6
Scritto così il nuovo anno sembra quasi la nuova versione di un software... e forse non è così inverosimile, in quest'epoca iper-tecnologica, che anche il TEMPO, la nostra risorsa più preziosa, sia in realtà un prodotto installato chissà dove e di cui noi facciamo parte come i personaggi di un videogioco. I riferimenti narrativi e cinematografici si sprecano. E allora, tornando a ragionare sul TEMPO, in questo anno in cui ne compirò 40, ragiono anche un po' sul mio passato, presente e futuro. TEMPO di mutamenti in corso. Di rincorsa al passato. Alla ricerca del "tempo perduto" in cui le giornate erano ME, riflettevano il mio essere intimo e non quello sociale. Nostalgia, un poco. E se non posso cambiare la società mondiale devo cercare almeno di cambiare il mio modo di vedere e vivere dentro a questa società, prendendone le  cose buone e scartando il resto.
2016 anno di scattivamento per lasciare il nucleo. Abbandoni, ritorni e rinascite. E' già nato, sul finere del duemilaquindici, il mo nuovo blog dedicato in prevalenza all'inbound marketing, seo e web marketing turistico. Ma è solo l'inizio. 2016 anno di NASCITE. Di FONDAMENTA. Perchè la Vita (ri)comincia a 40 anni... :)
§ ------------------------------------------------------------------------------------------------- §
DUE MILA QUINDICI
Rileggendo i propositi dello scorso inizio anno per il 2014 mi accorgo adesso di averli perseguiti e addrittura centrati quasi in pieno... sono stupito! Il 2015 è l'anno precedente al 2016, ovvero quando (speriamo!) arriverò a compiere i miei fatidici quarant'anni! Per questo traguardo mi sono prefissato da tempo un certo obiettivo legato - per dirla in breve - al "tenore di vita". E, al momento preciso in cui sto scrivendo - 1° Gennaio 2015, ore 17:10 - tale obiettivo mi sembra quasi insuperabilmente lontano... Quel "quasi" poggia e trae la sua forza dai 365 giorni di questo 2015; questo è il tragitto che dovrò compiere da oggi in poi che capire definitivamente quello che potrà/dovrà essere la mia vita dal "mezzo del cammin" in avanti... Quindi anno di avvicinamento, di studio, di preparazione, di duro lavoro, di training fisico e psichico in cui tutto deve lavorare in sintonia e al servizio l'uno dell'altro per non mancare uno degli appuntamenti più importanti. Testa bassa e pedalare andrebbe benissimo, se non chè, nel mio caso, sarebbe più consona una metafora di squadra: una sorta di perfetto ingranaggio meccanico che si muovo e muovo il mondo intorno al ritmo di una musica interiore che all'esterno si propaga poi attraverso altre sinfonie. Una SONICA costruttiva, un anno meccanico, per gettare solide radici ad un progetto di vita altrettanto (al contrario) libertario e di tempo per conoscenza/appropriazione di sè. Sonica, so so sonica...
§ ------------------------------------------------------------------------------------------------- §
DUEMILAQUATTORDICI
Anno complesso da decifrare e prevedere; questa è almeno la sensazione che percepisco a pelle dalla cima di questo suo inizio. Un anno che voglio dedicare alla "ricerca di un tempo perduto" (intimamente mio) e alla riscoperta  di passioni sopite, colpevolmente lasciate all'angolo per troppo tempo.
E per riscoperta intendo il viverle nuovamente, in modo diverso certo (anche più creativo e indipendente), ma ritornare con carne, nervi, stomaco e cervello ad attraversare certi spazi di azione e abbandono.
Un anno di riappropriAZIONE, inevitabile perchè desiderata e necessaria allo stesso tempo, per non continuare ad errare in falsi stazionamenti che, ingannatori, si dissimulano come soluzioni quando in realtà non sono altro che il peggioramento ed incancrimento del sistema stabilito.
Dunque, un bellissimo anno di AZIONE, spero. Nessuna porta e nessun muro ad ostacolarla, libera circolazione che porterà aria e fresca e luce nuova al risveglio di parti informicolite dal torpore di troppa quotidiana ergonomia.
Buongiorno e ben arrivato caro DUEMILAQUATTORDICI, ti aspettavo :) ...You're going to reap just what you sow...
§ ------------------------------------------------------------------------------------------------- §
2.000 + 13
Prima di ogni cosa, in questo 2013 che va ad iniziare voglio ricordare due persone speciali e a me molto care che nel 2012 se ne sono andate: il mio nonno e il mio fratellone acquisito! Un abbraccione da quaggiù a lassù :)
Veniamo quindi al 2013: se lo scorso anno lo avevo dedicato, sia interiormente che esteriormente, alla SEMPLICITA', il nuovo che arriva vorrei dedicarlo al CAMBIAMENTO. Cambiamento inteso sia come disposizione d'animo al mutevole (andando su con l'età si rischia di diventare più rigidi e sclerotizzati sul proprio punto di vista e invece mi piacerebbe mantenere quella flessibilità di ragionamento che è l'unico che può permetterci di continuare ad interpretare e ricreare il mondo), sia come cambiamento in alcune modalità di vita e di lavoro.
Cambiamento inteso come capacità attiva di vedere e ricercare il "differente positivo", lo scarto migliore per non rischiare di arenarsi, anche psicologicamente e/o affettivamente. Quindi, questa dedica al CAMBIAMENTO, è un pò un invito, alla fine, ad un mio NON CAMBIARE, in quanto, da sempre (quando più, quando meno), ho sempre cercato di vivere il mondo in modo libero, senza pregiudizi e aperto alla relazione.
Ricordarselo più spesso, in questo 2.000+13, non mi farà altro che bene! Buon anno a tutti! Massimo Volume:
"Cambiare il corso delle cose, é una regola che bisognerebbe darsi. Non importa trovare qualcosa di meglio, basta qualcosa di differente... Mettere la freccia prendere una direzione, un'uscita qualsiasi..."
§ ------------------------------------------------------------------------------------------------- §
2 ZERO 12
Si usa dire che a fine anno si fa il bilancio, ovvero si soppesa pro e contro per vedere da che parte pende la stadera... Però in realtà questa cosa, come immagine, non mi piace e non mi rispecchia molto. Su un piatto della bilancia ci sono io e sull'altro il mondo finito (umano) con le sue infinite possibilità. Io preferisco dire che rifletto e analizzo su ciò che ho fatto, su ciò che mi è successo, su tutto quello che ho imparato e sbagliato per vedere dove posso migliorare maggiormente. E in questo senso affido simbolicamente all'anno che viene una qualità che è quella che, a mio parere, è più urgente che io incrementi per migliorare molti aspetti della mia vita che ad essa si legano, sia lavorativa che personale. In questa ottica sento in me l'urgenza di dedicarmi soprattutto, nel 2012, alla SEMPLICITA'.
Semplificare, sfrondare, tracciare linee rette, diminuire il tempo e i passaggi a vuoto, o se preferite, riempirlo meglio, con maggiore e migliore densità. Rendere il lavoro più semplice, la vita più semplice, allieva poi dalla pesantezza di molti nodi che la complessità porta necessariamente a crearsi. SEMPLICEMENTE vivere, questo è il mio personalissimo augurio che mi faccio per l'avvenente 2 ZERO 12!
§ ------------------------------------------------------------------------------------------------- §
DUEMILA11
Anno di rivolte e rivoluzioni. Credo nel 2011 come anno positivo globale, come anno di mutamenti e cambiamenti verso assestamenti migliori. A livello planetario. E poi mi piacciono i numeri dispari, gli dò fiducia anticipata :) Mi piace già il 2011..
C'è fermento, c'è vita, c'è voglia di superamento e di innovazione, di verità e di impegno. E di riflesso tutto ciò influirà sui singoli individui. Sento che c'è voglia di spiegare le vele al vento giusto, verso orizzonti migliori. Dedico il 2011 a tutti coloro che lottano quotidianamente. Auspico un mondo fertile, giovane e forte. Un 2011 di democrazia per il Nord Africa e per tutte quelle regioni del mondo in cui regnano stati oppressori (siano essi dittatoriali, di partito, di malavita). Libertà è partecipazione democratica al mondo. E i mezzi di comunicazione e internet in primis può fare molto per questo processo.
Quando le cose sono condivise non si può più restare inermi. E' una spinta umana verso le giustizia che ancora mi fa sperare. Un pochino.
Spero che il 2011 sia un primo passo non verso una ripresa economica, ma innanzitutto una ripresa Etica del mondo intero. Dopo, deve venire quella economica, fondandosi sulle nuove basi gettate.
§ ------------------------------------------------------------------------------------------------- §
2010
E anche il 2009 sta per andarsene; dal punto di vista socio-economico del Paese rimarrà come "l'anno della crisi", e quindi speriamo che il 2010 venga ricordato come quello della grande ripresa! La forza cinetica accumulata per restare a galla in mesi di magra dovrebbe consentire un bello slancio, un salto, un tuffo prepotente per il nuovo anno alle porte! La auguro di cuore a tutti!
Per quanto mi riguarda sono riuscito a resistere (perché sempre più di resistenza vera e propria si tratta!) pur avendo toccato da vicino (e di rinterzo) le problematiche legate a quanto sopra esposto... problemi a ricevere pagamenti, ditte che chiudono o tagliano spese, ecc.. Penso che i presupposti per credere in un nuovo anno più fiorente e prospero ci siano: i contatti comunque accresciuti, il lavoro che ho dedicato al mio sito in fatto di posizionamento, i lavori già avviati, i riscontri positivi, la stabilità dei clienti acquisiti, l'interesse crescente, anche in questa zona, verso la presenza su internet, nuove idee complementari e supplementari a ciò che già svolgo.
Credo moltissimo nella creatività e nell'inventiva, e credo che queste possano essere le due cose che massimamente ci traghetteranno fuori dalla crisi: la capacità di stare dentro alle cose con creatività, fare rete, esplorare nuove frontiere.
Auguro a tutti un 2010 in cui giustizia, libertà, equità, meritocrazia, creatività si espandano sempre di più nel mondo dirigendolo dal basso.
Dedico il 2010 a mia mamma.
"Sulla strada Auto corrono Veloci. Mille sogni Come meta." [Stella Brogi]
Sidebar