Introduction to my Italian SEO Blog
[Delizard • Web Development, Web Design, Seo. A Rosignano Solvay - Livorno - Toscana]
I am an italian web designer freelance. I offer seo services, onpage optimizazion and linkbuilding. I am expert in dynamic website development.

Millestanze.it
»
Italian SEO Blog
»
Delizard's Blog
DELIZARD SEO-BLOGGER FREELANCE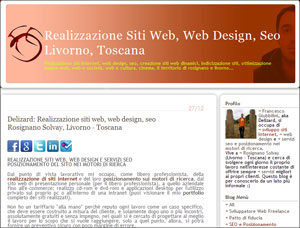 Do you like Blog? Read more!

Hi, my name is Francesco Giubbilini and I am a web designer, web developer and seo freelance in Tuscany (Italy).
If you want know me better you can read my About Me page on this website.

I work hard every days to create nice and original website for my clients but I spend a lot of time to increase my visibility on the Internet becouse this is the best way to find new works and to improve my authorship on the web.

For these reason I have decided to write a nice blog (blog articles are available only in italian language, sorry!) where i tell about myself, my job, my hobbies, my travel, my country, but, mostly, where i write articles about seo, ranking, search engine, social networks, web marketing and territorial/tourism web marketing.

I am very happy when i write articles for my blog and even if it takes me a lot of work, I get lots of visitors on my website, and thanks to my rss feeds, my items are visible on the main social networks (Facebook, Twitter, LinkedIn).

So... VISIT MY BLOG!




---
PAGE TAG: SEO BLOG - BLOGGER - DELIZARD - SEO ARTICLES - WEB DESIGN - ITALIAN BLOG - WEB DEVELOPMENT - WEB MARKETING

DELIZARD : WEB DESIGN - WEBSITE DEVELOPMENT - SEO / SEM SERVICES
WEB MARKETING - WEB COPYWRITING - GRAPHIC & LOGO DESIGN - VIDEO - EBOOKS
Via Petrarca 5, 57013 Rosignano Solvay
Livorno • Toscana [Italy]
Phone/Fax (+39) 0586 793 032
Mobile: (+39) 335 8451281
Email: delizard [at] millestanze [dot] it
| | |